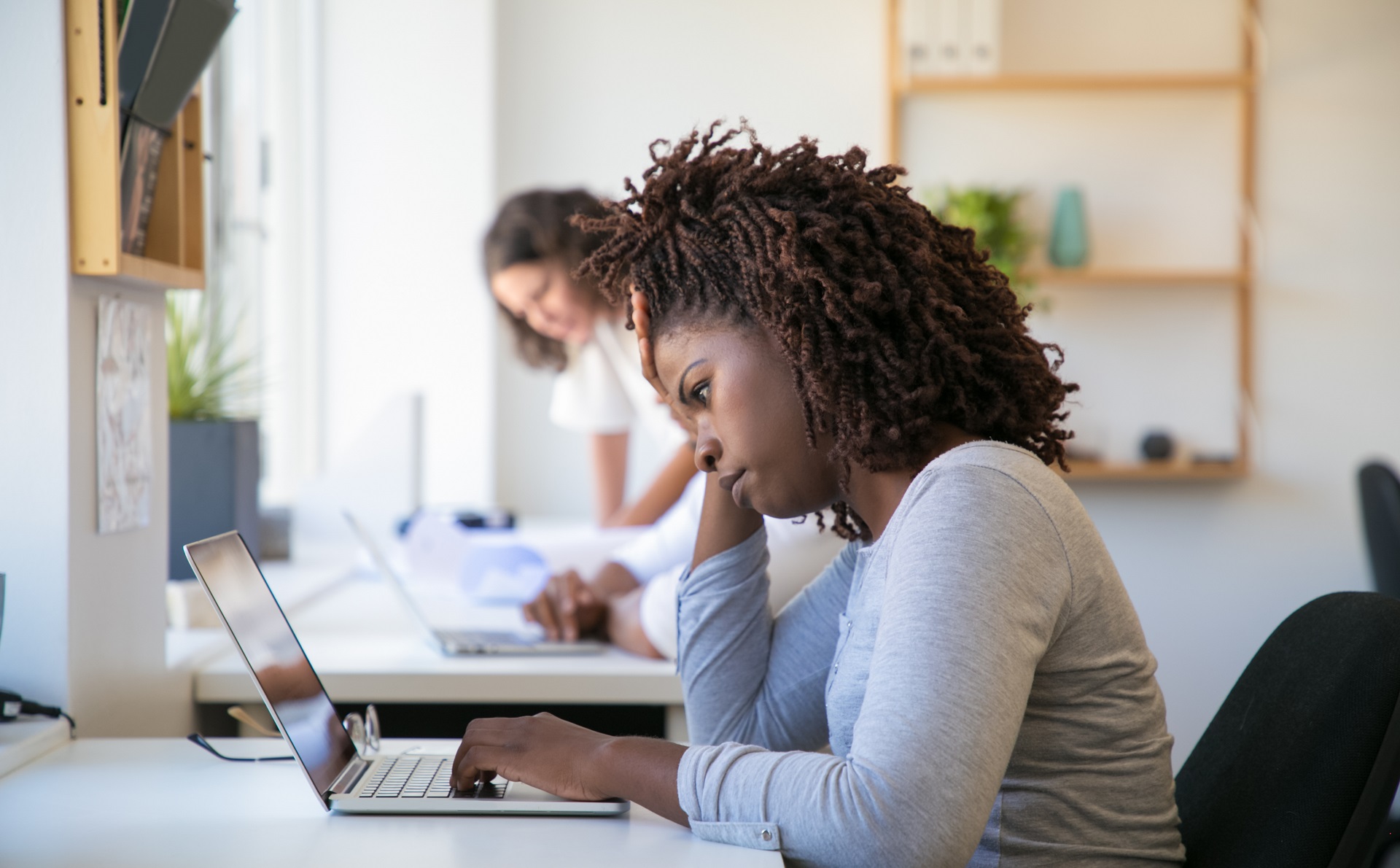 Working from Home: One year after the lockdown
In the heat of the Covid 19 pandemic, last year, we published our study on Remote Work: Lessons from the Lockdown. A year later, we examine the after effects of that organisational shift, how employees are coping and the challenges they face.
After the lockdown, some organizations adopted hybrid systems with employees working from home a few days a week and coming to the office the rest of the workweek. That change reflects an overwhelming consensus among respondents of whom 98% said they would like to work from home some of the time.
The study showed that savings in commute time were by far the most important advantage of working from home. 70% of respondents said those savings gave them more time for other activities. Before the lockdown, employees spent between 4 and 6 hours daily commuting to and from work. Working from home eliminated the stress of Lagos traffic.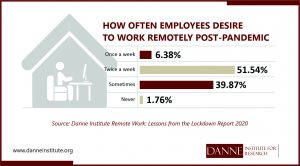 Another advantage they mentioned was the fact that they could work at their own pace, control their time and adopt a more flexible schedule. They felt more creative, they could be with family and live a healthier lifestyle with adequate time to eat and exercise properly.
However, about 20% of the respondents lamented the lack of respect for their time during the lockdown. They received work-related calls during the weekend; there was no resumption and closing time: employees were expected to work 24/7. That lack of a boundary between work and non-work was a source of dissatisfaction. For some respondents, the workload seemed to have increased. Other respondents complained about unscheduled meetings which were unnecessarily prolonged.
Employees have now had a year's worth of experience with the hybrid system of working some days in the office and other days from home. They are facing new challenges with remote work. They are finding that they have no time, and increasingly, no life. Work and non-work time seem blurred. They receive calls, emails, WhatsApp messages at any time of the day and night and even during weekends.
Bosses, on the other hand, reference the harsh economic environment. The country dipped into recession again, and the recent recovery is weak. From their perspective, employees must sacrifice for the organization to survive. Increased workload has led to increased stress levels and little or no work-life balance. Women may be disproportionately affected: they leave a stressful job to take care of another job in the home. Very often they are sole caregivers of the children.
The situation is worsened by resignations sometimes due to relocation. The loss of human capacity is ongoing. And it is huge. According to the Immigration and Refugee Board of Canada, over 12,000 Nigerians migrated to Canada in 2019 alone. Consulting firms and even oil companies are not left out: they are also losing talent. As employees resign, they are sometimes not replaced (to save on employee costs), at least not soon enough. Their workload is added to that of colleagues who remain. Employees who stay find they have more work and cannot complete tasks in the normal workday. The days they are working from home are particularly stressful. The savings in commute time is no longer available for family life and exercise, it is used to catch up with work demands. Some employees resign when they can no longer take it, further worsening the situation for those that remain.
The costs to employees are high. A recent article by The Guardian says that cases of hypertension are high among Nigerians. Employees find they work all day and into the night doing their work and that of others. Very often they are not appreciated. Bosses expect them to handle more given the economic crunch. The emotional strain may be too much for some people to handle. It seems that the understanding shown at the beginning of the Pandemic is gone. Bosses have moved on to business under harsh economic conditions and the concern for the human toll of the pandemic on employees may not be evident. While it is true that the number of infected persons has dropped significantly and remained low for several months, employees may still be going through a lot psychologically.
Why are young people leaving?
Turnover among young people is particularly challenging. Resignation due to relocation has become commonplace. Whole units in some organizations have left. Some organizations are in constant hiring/replacement mode. Turnover is increasing among Millennials and Gen Z. This is not surprising.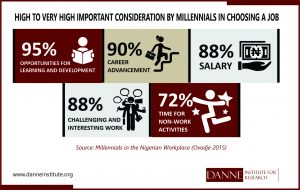 Millennials and Gen Z value work-life balance much more than Generation Xers. In a study on Millennials in Nigeria (Ovadje 2015), 72% of the sample considered the time for non-work activities of high to very high importance in choosing a job. For Millennials (and probably Gen Z), work is not a central life purpose. They have hobbies and other activities which are important to them and which they will not give up for work. They are ready to resign if work does not allow them to live a life.
One respondent who worked in one of the big banks resigned without another job because, according to him, the stress was too much. He preferred to be unemployed for some time rather than work in those conditions. Young people are not ready to endure what their parents did. For them, loyalty to an organization as Xers know it may be dead. In this study, 45% of respondents said they would spend only 1 to 5 years in an organization.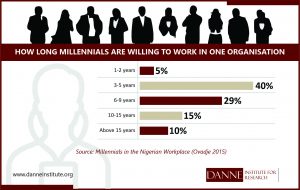 The excitement of working from home may have worn off. Employees may be rethinking remote work due to the increased stress. The commute (even though it is very long) may not be so bad after all. It provides a break between work and non-work. It also allows employees to wind down from work. The commute signals to bosses that the time for work is over. Even if they leave the office at 7 pm. With WFH, there are no boundaries. Bosses are getting into the habit of asking employees to deliver tasks outside work hours whether the employees are working from the office or not. Burnout is bad for employees, their families and society at large. Organizations cannot continue to make citizens bear this burden.
What can be done?
Even though the infection numbers have dropped in Nigeria, and vaccines are becoming available (though in limited quantities), the pandemic is still raging elsewhere. There is a need to be respectful of employees' personal lives especially in these times. An 8 am to 10 pm work schedule is not acceptable. There should be strict cut off times otherwise those with options will leave the organization. Boundaries must be set and kept. Organizations should ensure that weekends are completely off so employees can relax. After all, they need employees who are rested to help them get out of a bad financial situation. Weekly check-ins continue to be important. These should be not only on work but also on the personal level.
Managers should learn to show appreciation to employees and not take good work for granted. HR managers have to be ready to replace staff as soon as possible.
Organizations assisted employees to make the transition to WFH. Some not only provided the remote working application tools, but also weekly check-in, online hangouts on Fridays, workshops with psychologists on mental health, etc. Organizations that show employees they care during bad times will reap the benefits.
Traffic congestion in Lagos continues to be an intractable problem. The economic costs run to trillions of Naira each year. The human costs are even larger. The government must wake up to its responsibilities.