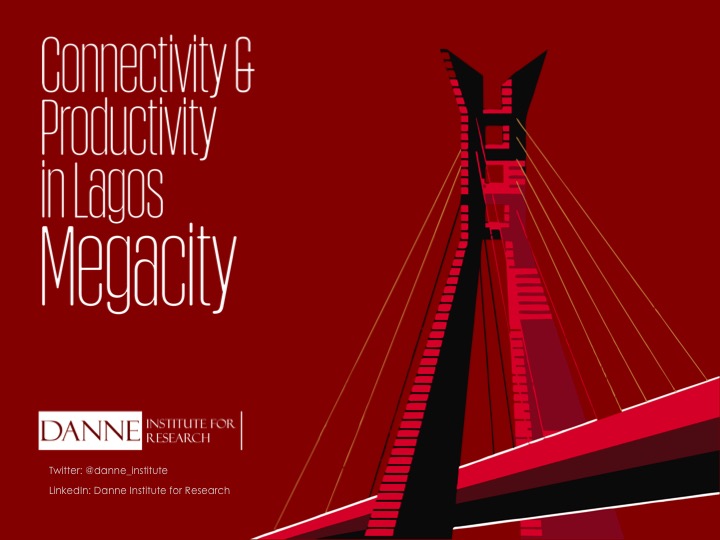 Will connectivity solve Lagos productivity problem?
Eleven!
That is the number of millionaire cities, i.e. metropolitan areas with over a million people, in Lagos. That is huge. These cities would have readily become Lagos productivity engine rooms if they were connected in such a way that the abundant skilled labour that the state is blessed with and the over one million more with strong resolve to succeed that migrate there every year are well connected to the markets, businesses and jobs. The minimum distance among these cities (24.4 km) is double what is required for the inter-city interaction that facilitates on a large scale, the creation of jobs, development and deepening of markets and exchange of ideas necessary for growth.
Lagos is disconnected, fragmented and less productive
In Cities as Engines of Growth: Evidence from a New Global Sample of Cities, Paul Collier, Patricia Jones and DewI Spijkerman found that when the population of developing economies doubles, productivity rises by five to six per cent. It is estimated according to the National Population Commission that there are about 21 million people in Lagos, more than double how many there were in 2006. Despite having this human capital ingredient for growth, Lagos was ranked the third least liveable city in the world by the Economist Intelligence Unit in their 2018 Global Liveability Index.
In 2015, Lagos had the lowest score of 11 African countries on the City Prosperity Index. In fact, Lagos had the least score on productivity (16.1%) and infrastructure (37%). That is abysmal for a city that has so much potential. Why is this massive growth in population not commiserate with the state's productivity levels? We argue in our research, Connectivity and Productivity in Lagos Megacity, that disconnection is the reason why Lagos is not a productive and prosperous megacity. We also found that Lagosians spend an average of 2.21 hours daily commuting to work.
The low productivity is specifically because connectivity issues have led to fragmentation of markets and businesses. Micro and small businesses that could exploit the whole Lagos markets if the cities were well connected and travel time is short are restricted to their bus stops and localities. This stifles their expansion and limits job creation.
Gridlocks which strain commercial activities, increase transport costs and time to market have also made businesses less competitive and profitable. They simply cannot make more because it is difficult to efficiently service the state-wide market due to intra-city traffic congestion. The logistical nightmare of processing goods for export at Apapa port makes them less competitive on a global scale.
On the individual level, spending an average of 2.21 hours in traffic daily means employees are exhausted before they start work. Apart from the emotional, medical and relationship strain this causes them, Lagos skilled labour force end up perpetually exhausted and are less creative and not as productive as they should be. Their minds are fixated on the second wave of traffic after close of business.
Creating options is the best route to decongestion and productivity
From across the 11 millionaire cities, about 10 million people move to the Island every day to work. Situating the biggest markets on the island also means that people move there en masse from the Lagos mainland and indeed outside Lagos to shop. The sheer number of people plying the few routes for these purposes causes congestion. It is estimated that the demand for trips in Lagos is 20 million per day and there are only 9,326 kilometres of roads in the state. One result of the over reliance on roads to get Lagosians from one place to another is that Lagos has 264 cars per kilometre of road as against the world average of 11 cars per kilometre.
In solving Lagos connectivity problem, both the private and public sectors need to put their ducks in row. There are demand side and supply side solutions to the problem. The demand side solutions include encouraging more people to use public transport instead of their private vehicles. Large companies or organisations can invest in staff buses or partner with Lagos State Waterways Authority to convey their staff to and from work. Uber, a global ride-hailing firm, test ran its boat service in 2019 but hasn't kick-started full operations. Government can appraise what the problems are and make concerted efforts to attract private investors to deepen its waterway transportation.
Connectivity and Productivity in Lagos Megacity, that disconnection is the reason why Lagos is not a productive and prosperous megacity.
Companies can also take lessons from the coronavirus-induced lockdown to explore partial or full remote work for jobs that are amenable to such working arrangement. Many respondents to our research on Remote Work stated that savings in commute time improved their productivity and that they would love to continue working from home sometimes in the future. For jobs not amenable to remote work, employees should have flexible resumption times and organisations could reassign their workers or ask them to work in branches or outlets close to their homes. These will reduce the number of people on the road at any one time and extend the rush hour.
For the supply side, the rail project is long overdue. A multimodal transport system made up of rail lines, waterways and road network that can efficiently move people from one place to another is urgently needed. Planning has not been a problem in Lagos State since the return to democracy in 1999. The Lagos Masterplan includes a plan for 7 rail lines but 21 years after, the first two, the Blue and Red Lines are yet to be completed.
The government also has a plan to develop the mini cities. Lagos Island has as many as five major markets and it is also the central business district. If new city centres are developed in places like Ikorodu, Badagry, Abule-Egba and Lekki and they are connected through a multi-modal transport network, fewer people will need to go to the Island for good jobs or to shop. Lagos will be better connected, less congested and the state's overall productivity will increase significantly.
As the government is encouraged to invest in multimodal transport system to create more options for Lagosians and reduce congestion, efficient traffic management can create a relief in the interim. Citizens should be continuously educated on the importance of obeying traffic laws and those laws should be creatively enforced. Technology has a role to play. Arresting traffic offenders on the spot only causes more traffic congestion.
An efficient transport system enables employees get to work refreshed and on time and connects businesses to markets. Such employees are creative and productive; productive employees earn more and their companies grow. Businesses well connected to the markets make more money, expand and employ more people. The tax base becomes wider and government raises more internally generated revenue. In essence, a Lagos with an efficient transport network is a Lagos that works and where everyone wins. That is a true centre of excellence. Making Lagos work is a task for all of us.